Large-scale renovation of an old Japanese house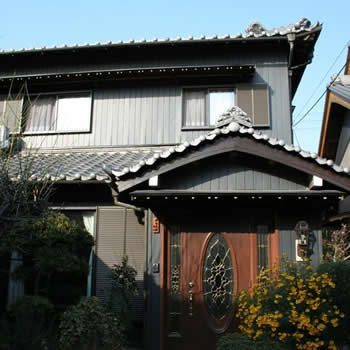 House owner wanted to reborn an old house such as better to rebuild. This project was started from a desire of house owner. I want a lot of people to know that if wish hardly, it is possible to reproduce so wonderfully even in an old house.
We build it from natural materials like pine consider with designing.
It is still all right. Old carpenter's technique is alive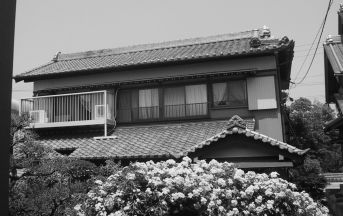 The house was apparently old, but the wooden structure and roof was sturdy. So we thought that we found a way.
Then, our themes of renovation are to improve the performance of earthquake proof and insulation, and to make a enrich interior.
Look over the kitchen from the dining room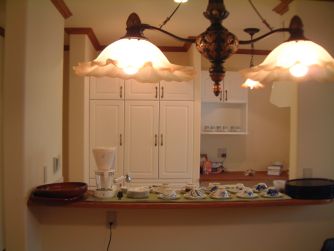 White cabinet in kitchen could be seen from the antique chandelier in the dining room. It is chic and elegant. Stay with enrich in such atmosphere.
Living room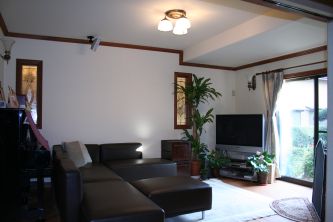 Contrast of white dry wall and black leather sofa of Cassina. There is a wood burning stove in the corner of living room.
The faint light spills from the entrance through two stained glass windows.
Elegant vanity room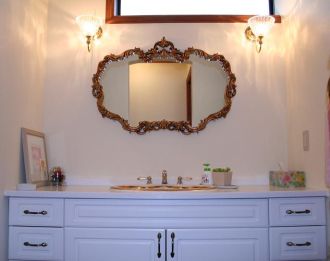 The cabinet made same design with kitchen cabinet and it produces unified sense.
The mirror, the bowl, the lighting, and faucet are all made in Canada.It was created with madam's sense to "Clean and elegant space"
Wood burning stove has presence in the living room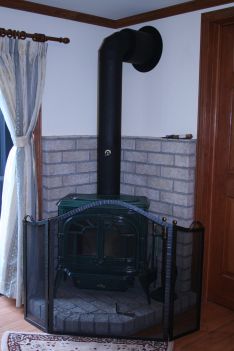 The casting stove painted green. It thinks about children's safety, and it provides with the screen guard.
The bricks around the stove are made in Canada. As these bricks are for outside wall, the fire-resistive performance and durability are actually guaranteed.