Individuality of the house stands out naturally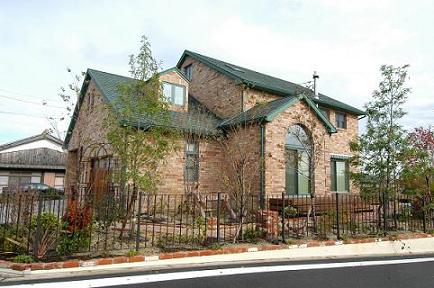 We finished the brick cladding brightly and naturally. The brick beautifully laid up around the arched window is a technique of Canadian bricklayers.
Yellow brown brick wall and green roof coordinate the color of the earth with good balanced.
Impressive Wood garage door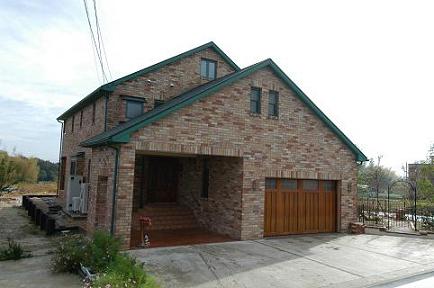 Approximately 710 square ft area garage is the pride of the owner. The garage is lit with crisp blue sky; it seems a residence in the suburbs. Owner's favorite car stands by behind the red cedar door.
Reproduction of Canadian kitchen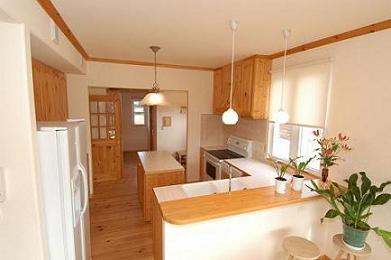 Country style kitchen has been achieved to combine pine door cabinet with tile top counter. A refrigerator and an electric range made by GE, a dish washer made by Maytag; these are all imported directly.
The repertoire in cook will increase as the function has been enhanced, too. It seems a simple design, but it is a reason why never get tired long time.
Enjoy the garage life through a window from Living room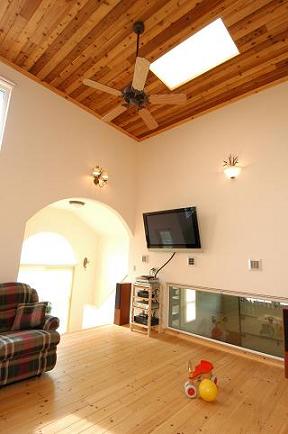 A bright sunbeam inserts from a skylight at wooden ceiling. The garage appears through the window is a space of the own car.
Passing under the arch, it is an entrance for the garage. It is an ideal garage style that always could feel own car.