Canadian full scribe log home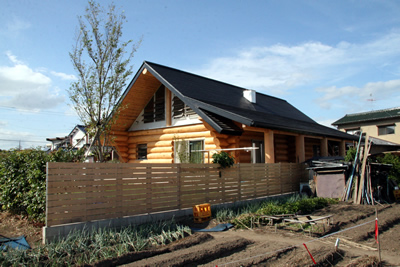 All of a sudden, a huge log cabin appeared in the farming area. A main roof like a bird rests wings and on the right, there is a deck with big roof that stands out the pillars.
Because the theme of the house was durability for almost permanent, the stainless steel was used as the roof material.
Exactly, it has an awe-inspiring atmosphere like a shrine.
Huge logs arrived from Canada (in Nagoya, Tobishima)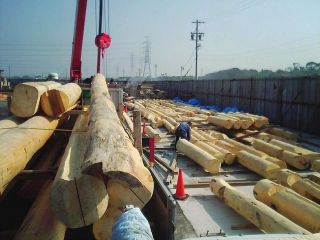 The logs fully loaded to three containers which are 40 length ft long is unloaded in the port. There is no word when I saw the logs that spread to wide full site in temporary log dump. No one was imaginable such terrible.
It is necessary to pass the narrow road as 13 ft width to reach at the construction site. To complete this, it is an ordeal from the heaven.
Assemble the large log which has 2 ft in the maximum diameter without any slit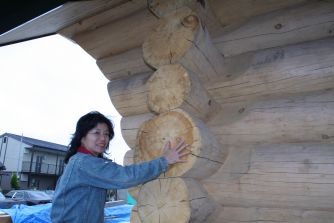 The log had already been processed in Canada. We supposed that the log need to processing again here before assemble, because the unseasoned logs had carried by ship for a month and they would be twisted usually by moisture.
However, in reality it was different. The saddle notch that unites and goes up with no slit between logs shows advanced technique and quality of selected Eastern white pine.
The large atrium living room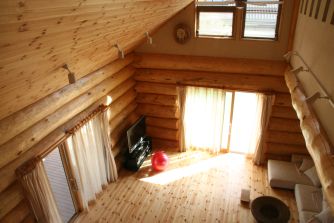 The room used knotty pine for the floor and the ceiling feels natural. Avoid more furniture than is necessary, and leave a large free space. The wood deck over the left window produces a vast extent.
Central "island" style kitchen units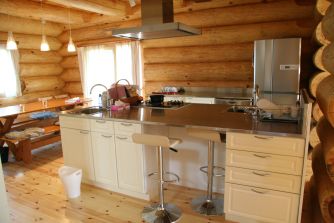 The kitchen is between dining room and living room. So it is easy to carry foods and drinks to both rooms, and also it has meaning that keeps away private dining space from living room. The import cabinet colored antique white is beautiful.
The wife creates "clean and enjoyable place". She wishes to bake cakes with children in the future.