A brick wall lined with garage doors, wood stove at living area and classic interior by dark colored oak are quite for adults.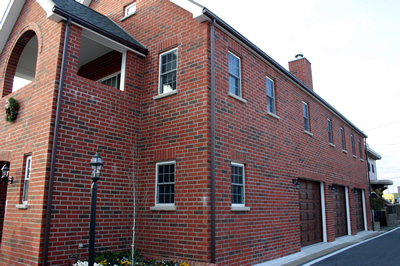 Regarding this western style house, we image a street with brick warehouses in Boston, USA. There are his beloved car and motorcycle in a warehouse and he talks with them.
The upper floors are for family and separated from garage area definitely. A big counter at kitchen has an appearance like an English Pub. Drywall interior gives us a feeling at ease in the living room.
Thickness of brick cladding wall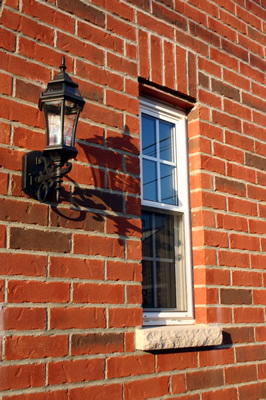 The sunset brightens bricks with orange red color. Make the house gorgeous by gray bottom sill at the window. The depth of windows suggests the thickness of the brick. This thickness is the key to reduce the heat of sun shine and to maintain the durability of more than 100 years. The bricks were installed by British professionals.
The glass of lighting fixture beside the window draws a beautiful curve. It is also made in Canada. You may feel it yearning for Europe culture. And we feel the retro atmosphere like JR Tokyo station, Marunouchi station building from them.
More about >>Brick Cladding>>
Window at den overlooks the built in garage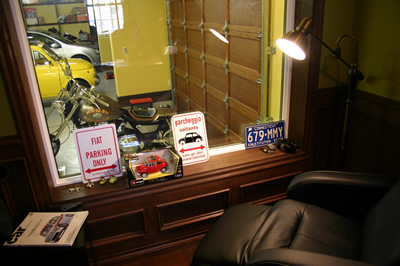 Quiet den is separated from Living area. It is a small world for him. And he will feel at ease alone there. Even though he is tired at work, his beloved car and motorcycle are brightened beside.
However, he may have a problem that he often wants to care them. He would like to buy some tools and parts for them. It must be fun to collect them one by one in such a space.
Let's go out! Open the garage door.
Brick House at night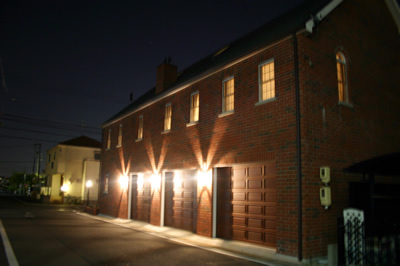 It turns dark. Warm light illuminates the triple garage door in the dark. You feel happiness in family through the windows. The value of house depends on the look in exterior.
So, we must think of exterior design at house planning. I take care in various ways of planning with a good taste and experience, though every builder does not have it.
Tiffany style pendant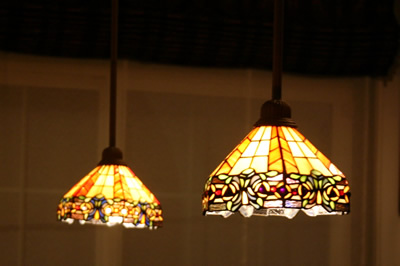 The small pendants illuminate a wide counter at kitchen & dining. Every my customer looks into their favorite at their house building without any compromise. The flower of glass shade blooms in the dark oak interior. The color makes an impression in the mono tone.
You can achieve favorite interior easily to install an imported lighting fixture. Canadian manufacturer has various kinds of stylish products and you can get it with fun. House building is a great entertainment, isn't it?
Breakfast counter at dining & kitchen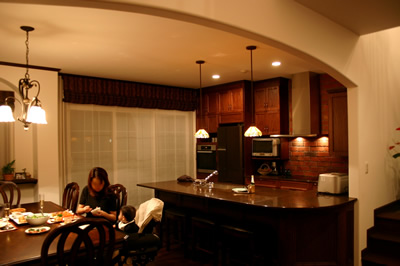 We installed some Canadian cabinets with dark oak door. At the archway finished by Drywall the lighting produces contrast of light and shadow. It shows an affluent life and the pleasure of a happy home. I was planning to achieve both design and function.
The wide and flat kitchen counter is overhanged to dining area. When your wife makes dishes in the morning, children can talk with her at this counter. Home Made will design communication with family.
Peppermint green room for child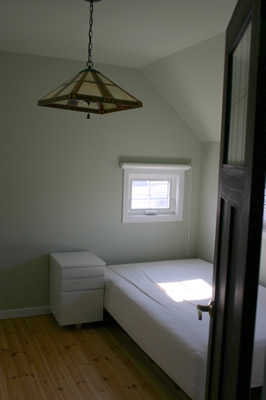 PARA PAINTS in Canada has Beautiful colors that doesn't find in Japanese paints. Line up of the pastel color is match easily to windows and the bed. Para Paints has 2,432 colors and more for Drywall and trim.
The flooring is made of knotty pine wood. This is solid and natural but soft like Japanese cypress. Child can feel at ease by good smell and design of the attic. It will be good for promoting emotional development.
More about >>Drywall>>