Brick cladding houses stand side by side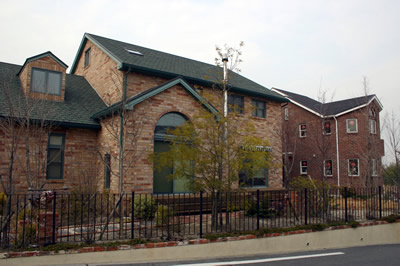 Mr. H's house was built by using yellow brown brick in Nagoya, Hirabari in 2003.
This time, we built his mother's house next to his house with red brick and bricklayers from Canada installed the bricks as is before.
This house carries unchanged facade for 100 years or more. The house gives you such a feeling.
Two houses compete in their Bricks
Each brick has 90mm thickness and 3kg weights we lay one brick upon another by hand.
Generally Japanese outside wall material which called siding has only 12~15mm thickness. From the difference of thickness, you can find the how much differ the insulation efficiency.
Enduring color doesn't require repainting, this is the best exterior cladding material. The brick cladding makes a clear distinction with thin siding or slice brick thus beauty is eternal.
The each room has independent but feel them as one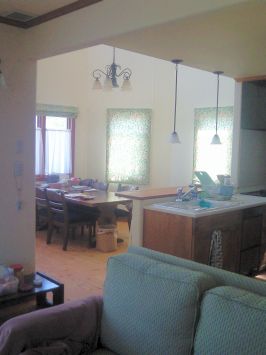 The kitchen, dining room and living room are linked to 2nd floor by a stairwell.
We planed that each room is independent space but it seems one huge space. This is our trick which the limited space shows wider.
The octagonal dining room is an accent on externals. It's wonderful to have breakfast while feeling morning sunshine from the stairwell.
Looking down the entrance hall from stairs windows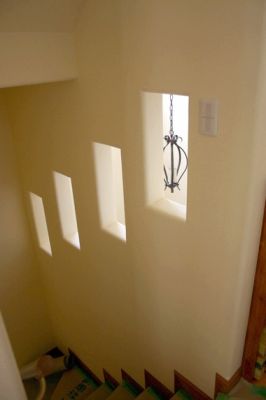 Open the four windows for look down the stairwell. All four sides of the window finished round shape which calls Bull nose corner. The wall which finished by "Dry wall", it expresses the beautiful shadow of light. Dry wall can produce such soft atmosphere.
* Dry Wall: finished up at all on the wall and the ceiling with painting the latex coating that doesn't contain formaldehyde and other toxic substance.
We use PARA PAINTS made in Canada
This sofa was bought in Canada, too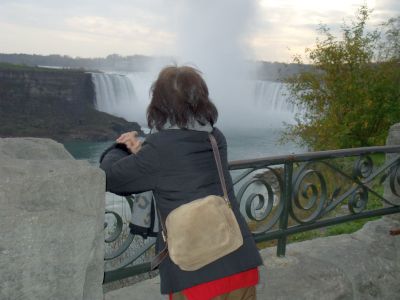 This photograph has taken at Niagara falls in 2007 when the house owner started to build their house.
It is good to be able to go there to see the one not obtained in Japan such as building materials, furniture and the miscellaneous goods of the house.
You can achieve such a dream for your house.Now is the chance!!
More about >>Canada tour & planning>>
The octagonal stairwell
This is a stairwell of the dining room you've saw the photo above.
Height of the stairwell is about 17'. The iron work chandelier hangs from the high ceiling matches to the natural wooden window frame.
The imported window inserts double pane glass with Low-E coating.Therefore, all the year round you can live comfortably.