Grandma's home was imaged - Mr. M's house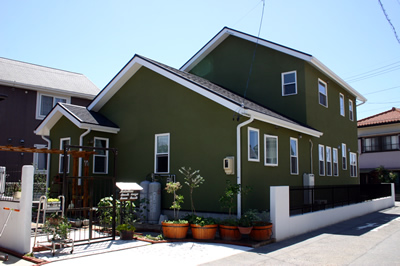 Foe this House, while we asked a master the opinion of feng shui, we were planning the floor and exterior design.Considering the features and usability, it is often not ideal.
But we finally achieved this to use every device.
At exterior wall we installed Stucco Flex that combines durability and flexibility as a cladding material. And we installed asphalt shingle roofing with 30 years warranty on the roof. The interior conception is the house where the owner's wife had visited a grandmother in her childhood. It can also be sticking to this even a new building.
Dignified entrance with Japanese sliding doors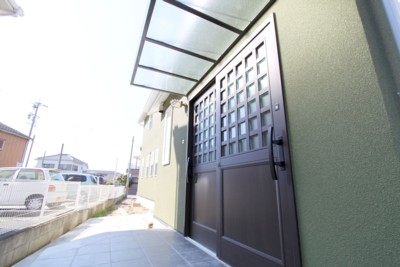 She insists on sliding door here even the entrance door.And we installed the glass marquee which is custom-made.
Sun shine comes around the entrance through the translucent glass. So, it is OK, even though it is closed to the next building.
Interior doors containing cross reed glass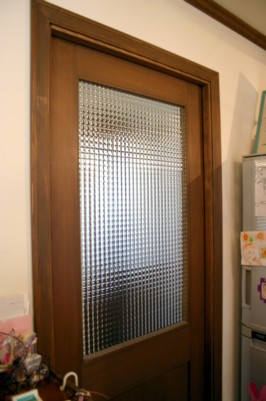 We installed the solid wood door at kitchen, vanity and the entrance of the living room.
You would often see it in a private clinic or an old barber. You will feel nostalgia in such a item.
Tile sink in retro feeling vanity room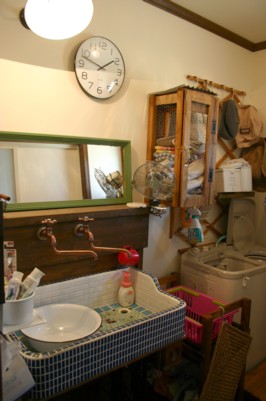 Not use it only in the vanity but also use the tile sink in the kitchen. Two faucets come out from walls and we feel the retro atmosphere from them in copper color.
Mirror, wall shelves and an old clock ... The wife had bought them all for this house.
Dining view from Living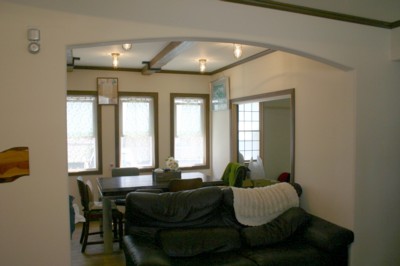 Cut back dining space by arched beam.At the right side there is a Japanese tatami room, and you can used it together with the dining area.
The contrast with the drywall color and the wood mouldings colored by dark olive. It's the beauty!
Lighting fixture with Retro Design
Handmade stained glass shade is also perfect Japanese style. It is the special order from the wife for the Japanese tatami room.
She does not make a compromise with design in such a small thing.