Party with more than 50 persons can be held in the dining and living area.
This is a dream for American family in Japan.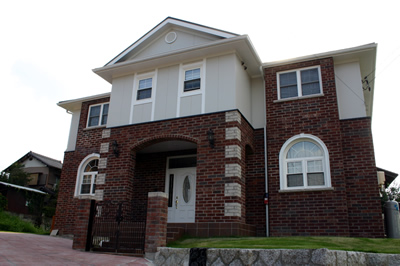 Japanese wife, American husband and two children live here. Two-tone look is finished with whole bricks at the first story wall and panel siding at the second one. This is just the North American residence.
Family has relationship with many friends and wide space was required for the party at house planning. And I have confidence for a dignified appearance and an elegant interior here.
Brick around windows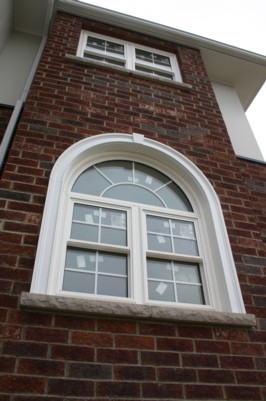 A half-circle windows on both sides of the entrance.
Make the house gorgeous by gray bottom sill and white moulding around the window. The depth of windows suggests the thickness of the brick. This thickness is the key to reduce the heat of sun shine and to maintain the durability of more than 100 years.
Available for more than 50 people at party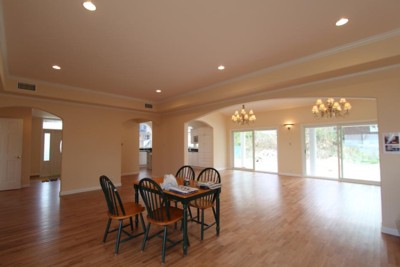 Such a large space like a gymnasium. You may feel a table set small in such huge space.
Flooring is natural solid oak and drywall is finished with orange and beige color by Para paints.
You will feel the gentleness and the rhythm at arched beams.
Gorgeous chandelier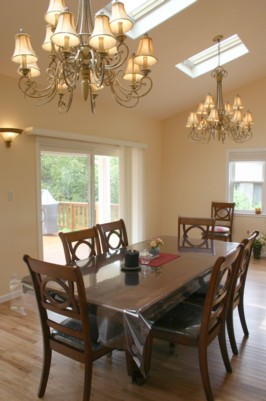 Stairwell dining. You can live here without any lighting in the daytime because the light from the roof windows comes in. Of course, if you turn on the lighting, warm light is leaked from the fabric shades and makes dining gorgeous.
There are no individual air conditioners at each room. The central air-conditioned system provides you with all year round comfort even in the bathroom and closet at small expense. It seems like a hotel.
L shaped kitchen with island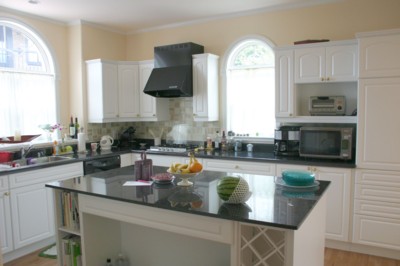 Black natural stone counter has 7' width and it is placed on the island. I and customers coordinated with the brass knobs and the white kitchen cabinets which were imported from Canada. You may feel the beauty and cleanliness on it.
we installed a dishwasher made in Canada and a cooking stove made in Germany in the kitchen. I always make the design plan for your perfect kitchen space. I cannot make it without custom-made.
Vanity space at Master bedroom is the same design as kitchen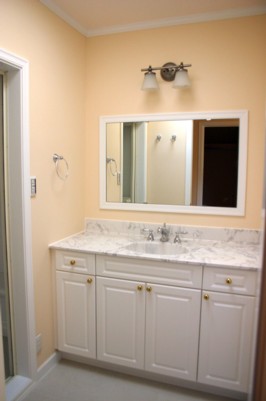 I planned it the same design as kitchen cabinets. The integrated counter bowl has gray marble color and it was also imported from Canada. The contrast between the cabinet and the wall makes elegance here.
Of course, family bathroom is separated from here. At the left side of here there is a shower room for only the master.
Residence and the large garden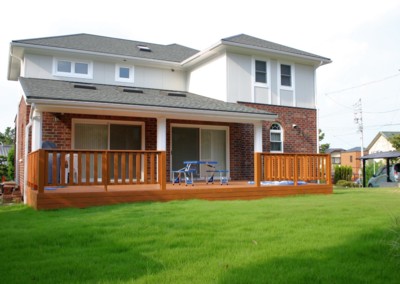 Can you see the wide wood decking which is attached to the dining room? A big roof covers here like an awning tent. You can also use this space at party. It may be beyond a capacity of 100 people.
Is there a builder in Nagoya, Japan who can achieve this with American design sense?