Watch the own car from living room. House with built-in garage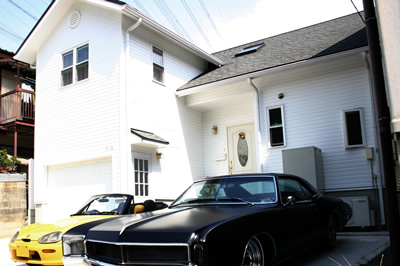 Mr. K's house is placed in Chita, Aichi. "Wants a garage for a huge American car" Under this theme, the house was built with the image of the American casual in the 60's.
The color of exterior and interior is based on white, but each private room has different color with playful touch. Taste such enjoyment with this work.
Interior miscellaneous goods that house owner bought and collected for this day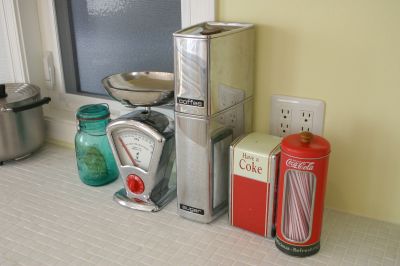 Both Mr. and Mrs..K loved good old days America. These miscellaneous goods made with tinplate and the stainless steel give nostalgic feeling.
The interior designing that suit these goods. The happiness that cannot be bought with money is taken to the life. Such an image created this house.
Our house is full custom made, so we could take enough time for designing their image.
The kitchen counter serves for the dining table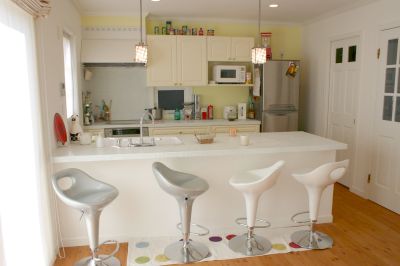 Designed for the family to get food together in a row at the kitchen counter, we made more depth behind the counter.
Therefore, living room could be taken widely instead of space for the dining table.
The door used solid wood, but we finished it with antique white to express purity and fresh feeling. The bar chair in front of kitchen was bought, when we went to Canada together.
Kitchen turned to romantic bar in the night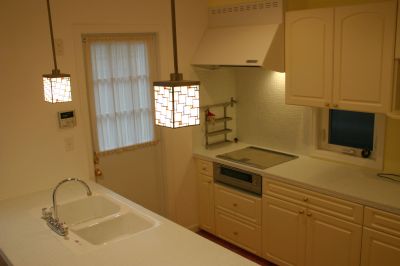 Hanging mini-pendants with stained glass shade, Dry wall can create such a mood.
The kitchen counter finished with mosaic glass tile. It is hard work to put small pieces of tile on, but we never omit our time and labor. Antique white Kitchen cabinet and a double bowl sink are imported and they have American taste.
* Dry Wall: finished up at all on the interior wall and the ceiling with latex paint coating that doesn't contain formaldehyde and other toxic substance.
Big window at living room overlooks the garage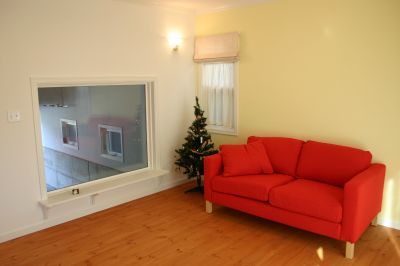 Only one side of wall was painted in cream yellow. Big window of 4 ft in width was installed on a white wall side. It was house owner's dream that always look over his own car from the room.
Would you like to achieve such a dream in your house?This red sofa has been bought in the Canada tour with us.
It's fine day, enjoy the meal in the deck!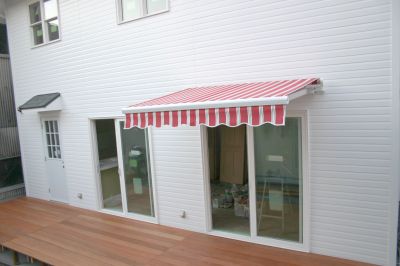 Large wood deck. The awning with fancy stripes is imported from Canada, too.
The awning is installed over the patio door of living room. It is possible to enjoy one's meal outside by this awning even at the hot summer. Feel the atmosphere like sitting in a cafe.
Stairwell entrance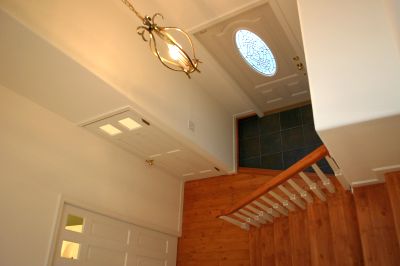 All of floor and stairs made of solid pine. We use fiberglass entrance door with the triple pane stained glass as a reason of durability and insulation.
Can you see the bull nose finishing that shave corners of the wall and the beam with a narrow round? The natural color of pine made the white wall attractive.
Chic Master bedroom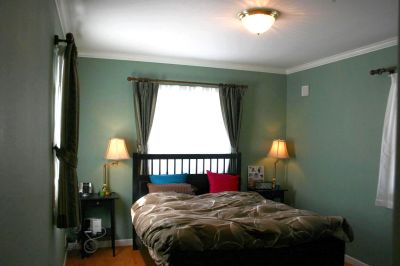 The wall finished with grayish green. The wall color goes well with dark brown bed and night stands beside. The room makes feeling at ease.
Non-polluting paint, "Para" has beautiful color variation. It is easy to remodeling as you can repaint by yourself.