Para Paints
PARA PAINTS for Sick building and sick school Syndrome measures and also for the hospital and the public institutions.
PARA PAINTS is a line of human and environmentally friendly water base paints which direct import from environmental advanced country, Canada.
The paint has a reputation for the beauty of the colors, the quality of the product, consideration to safety, easiness to use and the aware of environment. And it receives high acclaim also in France and U.S.A. It has beautiful color variation that differs from Japanese paints.
Please fully realize you PARA PAINTS which has both beauty and safety. And Home Made strongly recommends PARA PAINTS for drywall interior.
more >> details about Drywall >>
Products in Para Paints
Recognized by Environmental Choice Program

Environmental Choice Program is an ecolabelling scheme that was founded by Government Canada in 1988 to help consumers identify services/products which are less harmful to the environment. To receive recognition of this, it is necessary to clear the conditions; no content any formaldehyde, VOC doesn't content more than 200g/liter and other strict conditions. We provide you this Human-friendly and earth-friendly paint.
VOC: Volatile Organic Compounds.
Color variation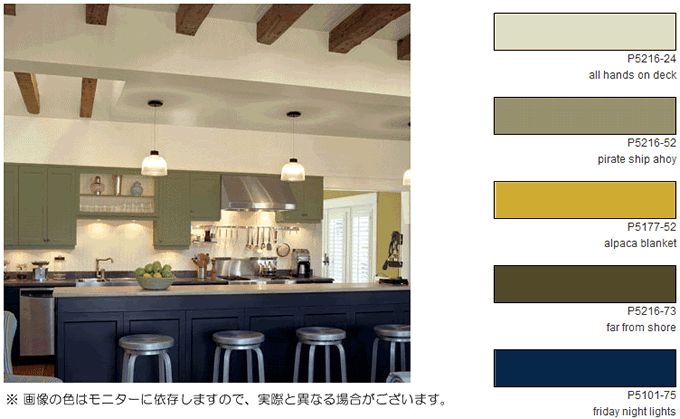 PARA PAINTS has Beautiful colors that don't find in Japanese paints. Line up of the pastel color is match easily to furniture and the curtain. The color sample book 'PARA Fan Deck' has 2,432 colors and it will help your coordination of the interior.
Only colors selected carefully "Collection color chart"
If you lose the way of color choice, please check Colour & Lighting Decisions.
The collection color chart is sent at free of charge. If you want it, please >> Contact us >>
Paint Products

Sarah Richardson, a famous designer in North America recommends the painting renovation by Para Paints in her web page, "Paint pick me up" and a following video.