Request for a pamphlet and a color chart for drywall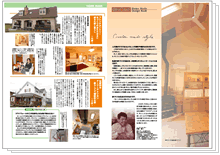 We will send the latest design book "@HOME" and a color chart in Para Paints.
If you would like these brochures, please fill out the form above and click submit button.
Free report
If this is your first time to build a house, do you worry about the selection of materials or the room arrangement?
"We have no idea what company we supposed to ask for new building and renovation of our house"
For these people, we provide with the report of 16 pages which was written plainly based on the experience with our customers by Yuzo Murase. The report is free of charge. Please read all of it.
Download is here : "First house building guide" (Japanese)【PDF】