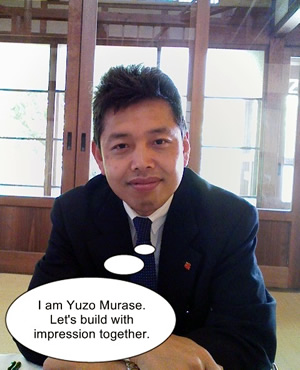 YUZO MURASE, Architectural Consultant
Representative director of Home Made Company.
Born in 1962, Graduated from Showa high school in Nagoya and Dept. of Business Administration in Aichi University.
Join the Study meeting of architect who thinks about construction with natural material, "Chubu Natural House Net Work".
Worked for the Mitsubishi Corp. Nagoya branch office took charge of the import business related the aerospace industry, after the University.
Afterwards, I had an opportunity that my friend invited me to his building company and involved in the housing industry.
I researched the house-building that uses natural materials while doing the business operation. From the experience of the trading company, I started to buy North American materials which are cheap and high-quality directly.
Twice every year, we keep executing the house visit that we had built and appealed the importance of maintenance (still continuing now).
This time I completed the report entitled "First house building". It aims to supplement the paucity of information to the consumer and it has already been read by 1,000 people or more.
The symposium in which the designer, the carpenter, and the consumer can exchange opinions has been held regularly. Also, we hold various seminars and open house at any time to become the chance of the house building.
Now join the Tokai Japan Canada Society (TJCS) as a member.
Theme: Design that other companies cannot mimic and the house of a natural material is created with the resident.